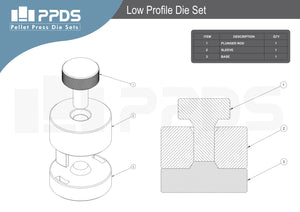 | | |
| --- | --- |
| Yield Strength 400 Series Stainless Steel | 160,000 psi (1100 MPa) |
| Recommended max loading @ 50 % | 80,000 psi (550 MPa) |
| Recommended max force | 3510 lb (1.75 ton, 15.6 kN) |
| Typical force for quality pellets | 220-660 lb (0.01-0.3 ton 1-3.2 kN) |
| Die sleeve inner diameter | 6 mm (0.24 inch) |
| Die sleeve height | 12 mm (~0.5 inch) |
| Fillable die sleeve height | 8mm (0.31 inch) |
| Die sleeve outer diameter | 25 mm (~1 inch) |
| Assembled height (w/o powder)* | 29 mm (1.14 inch) |
Recommended max force = Is the maximum force you can put the die set under. This includes a 50% safety margin which is industry standard.
Typical force for quality pellets = This is the range we recommend using that will get you a great pellet and is much less than the recommended max force.
Product Description
This die set is for a 6 mm (0.2 inch), short length <6mm (0.2 inch) pellets. The compact design and high strength heat-treated stainless steel means a higher force can be applied while pressing reducing the chance of plunger breakages. 
Features of this die set are: 
Compact Design: Built for High Loads

High Strength Stainless Steel: Heat treated to 160,000 psi

Built in ejector sleeve

Heatable up to 250°C (482°F)
Low profile pellet press die sets include:
1pc Die sleeve
1pc Plunger rod
1pc Base plate
Unlike our standard sets, ejector prongs are designed as part of the die sleeve, rather than a separate part. When using high forces you want a small amount of unsheathed plunger to prevent bucking of the plunger, so I) we keep the plunger short and ii) there are no spacers in the low profile die sets. These sets are made from stainless steel so can be heated to 250 °C during pressing.
See video below showing how this low profile die set works. 
Shipping: Free fast shipping across USA and Canada
Material: 400 series stainless steel (tensile strength 150,000 PSI). Material can be heated to max 250°C(480°F)
Worldwide shipping, Free to North America

Precision Made, Individually Inspected

High Strength Heat Treated Steel
Sleeve is ground to high tolerances to allows the plunger to slide through perfectly. Interior surfaces ground to a mirror-like finish (Ra=0.1).
These are some of the smallest die we stock. You typically DO NOT NEED HIGH LOADS FOR GOOD PELLETS – High loads do not equal better pellets. At small diameters, you only need a small load (around 100 - 2000 lb!) for very high stresses on plunger and the powder. We do not suggest using with a hydraulic press which does not have an accurate read out for low forces. Do not use this die with a big, heavy press - you can easily exceed the yield stress of the steel. Think before hand, if you are close to being able to break steel then you are probably giving enough load to push powder together.  You can even push down hard with your hand or tap it with a mallet to create sufficient force for compaction.
We also stock longer die sets (and larger diameters) in our standard selection. If you are looking to make a larger diameter and/or taller pellet please see our standard die sets here. If you need a custom diameter in the low profile design, please complete the custom die set form.
| | |
| --- | --- |
| Yield Strength 400 Series Stainless Steel | 160,000 psi (1100 MPa) |
| Recommended max loading @ 50 % | 80,000 psi (550 MPa) |
| Recommended max force | 3510 lb (1.75 ton, 15.6 kN) |
| Typical force for quality pellets | 220-660 lb (0.01-0.3 ton 1-3.2 kN) |
| Die sleeve inner diameter | 6 mm (0.24 inch) |
| Die sleeve height | 12 mm (~0.5 inch) |
| Fillable die sleeve height | 8mm (0.31 inch) |
| Die sleeve outer diameter | 25 mm (~1 inch) |
| Assembled height (w/o powder)* | 29 mm (1.14 inch) |
Need a different die design