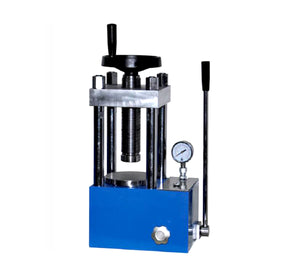 Pressure range
0 -25T (0 - 34 MPa)
Pressure gauge
Gauge displays force in both Tons and MPa units for versatility
Protection Cover (optional)
Polycarbonate Safety Shield is used with the press to protect the user from fragmentation
Diameter of piston
95 mm
Max. Travel distance of the piston
30 mm
Pressure stability
≤1 MPa / 10 min
Diameter of the working station
105mm (D)
Supporting size
80*150 mm
Note: the N can be customizes
Dimensions
260*175*420 mm
Net weight
42 kg (92 lb)
Hydraulic Press with simple all-in-one design to mitigate oil leaks. Max pressing force of 25 Tons (222 kN). This press comes with a pressure gauge and has a 7 inch (150 mm) max die height and max acceptable die diameter 3.15 inch (80 mm). This press can be used for exerting sufficient force for making pellets using dies under 75 mm inner diameter.
All of out presses come with a transparent polycarbonate safety shield for the user protection.
The top pressing surface on screw thread allowing quick aligning with the top of the die set and sample removal of the die unit.
Max piston distance: 30 mm (sufficient for use with all our dies)
Outer dimension: 245 x 175 x 415 mm
Gross Weight: 42kg (92 lbs)
Pressure range 
0 -25T (0 - 34 MPa)
Pressure gauge
Gauge displays force in both Tons and MPa units for versatility
Protection Cover (optional)
Polycarbonate Safety Shield is used with the press to protect the user from fragmentation
Diameter of piston
95 mm
Max. Travel distance of the piston
30 mm
Pressure stability
≤1 MPa / 10 min
Diameter of the working station
105mm (D)
Supporting size
80*150 mm 
Note: the N can be customizes
Dimensions
260*175*420 mm
Net weight
42 kg (92 lb)